Review: Ski Tracks App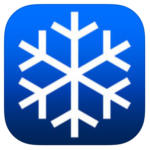 For the last few ski trips I have been using an app called Ski Tracks on my phone.  This app has fast become an essential part of my ski armory.  Each morning as I head up for the first lift I turn on the app and just let it run all day in the background on my phone.  Throughout the day, the app will track each of your ski runs capturing lots of data, speed, gradient, altitude, duration, distance…
On the main page of the app you get a nice overall view of your days skiing so far, you can see max speed, number of runs completed thus far, time spent skiing, steepest gradient and more.
The cool thing about this app is it will break down each of your ski runs, you can then deep dive into each run to see data about that individual run and of course compare it to your buddies to see who is better!  For each run you can see the max speed you hit, average speed, the length of the run, the start and finish elevation and the gradient of the slope.  The other nice thing about this is app is that it plots your route on a map so you can see exactly where you have skied!  For the more adventurous off piste guys this would be cool as you can see the lines you took.  The map unfortunately doesn't show the conditions in real time so you are not going to see snow on the ground but more of a Google maps/earth style view.
You can also take photos within the app, this lets you store moments from the ski trip so they are associated with that ski run at that time.  You can also play your music via the app as well so there is no need to keep going in and out of the app to change playlists stop/start music etc.
The app is also compatible with your wearables, so with my iWatch on the app can update and write to your health data.  I quite like this as after a hard day skiing you can look back and see just how hard you have worked.
The biggest problem you are going to have with this is app is the competitive element it brings to the group.  If like us at Mountain Vortex the first thing you are going to do is check who has hit the top speed of the day and check out the lines taken!!
A great app for very little cost.
Rating: 
Written by: @Alex
Tried & Tested: Since 2013…