Review: Motorola TLKR T80 Walkie Talkie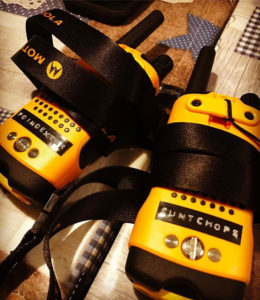 One thing you can always rely on when skiing in a group is you all agree the route at the top then instantly all head off at different speeds in different directions!  With each person then stopping and clambering around for their phone to text updates on their location!
This year the crew at Mountain Vortex took a different approach and got some walkie talkies!  Having used walkie talkies before with varying success we were unsure as to how the Motorola T80's would fair.
On the face of it the T80's don't look or feel any different from many of the other walkie talkies out there.  They are small enough to fit in your ski jacket pocket plus not too heavy so you feel them weighing your pocket down.  They have a handy strap so you can hang them round your neck and keep them tucked up safe under your jacket for easy access when needed.  Using them is easy as well, set them all to use the same channel and you are ready to go.  The buttons are big enough for you to use whilst keeping your ski gloves or mitts on so no need to worry about taking off and dropping your gloves whilst on the chair lift!
The range appeared to be good, we used them at a small resort with a max height of 2100m and we could talk no problem with those down at the bottom in the valley whilst at the very top.  The official range is up to 10km which in most circumstances should be more than enough to keep in touch, our use stretched the distance to around 5km or so.
The battery life was excellent, we used them for 5 days and only re-charged them the once.  Some of the devices we forgot to turn off over night and they still lasted the next day.  The battery life obviously depends on how much you use the devices to chat but they come with a handy charging dock and I would anticipate even with a lot of use they would last a full day.
The only problem we really encountered was deciding on our individual call signs (we stuck them to the back of each persons walkie, see picture 😉 ) and having done that the subsequent awkward moment in the gondola when you must respond to said call sign!
Rating: 
Written By: @Alex
Tried & Tested: March, 2017