Review: Picture Organic Clothing Snow Pants & Jacket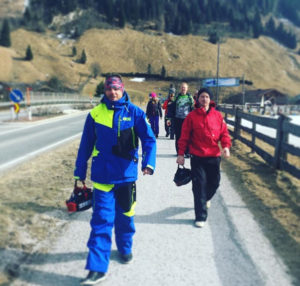 I had been wearing the same old jacket and pants for a few years now but for the last ski trip with the Mountain Vortex crew I decided it was time for some new threads.  In my old gear, I was distinguishable on the mountain so I wanted something that made me stand out just as much.
In my search for such items I came across Picture Organic Clothing, their range of snow wear looked to be just what I was after.  Picture have been around since 2008 and the thing that sets them apart from other brands is their commitment to producing products that are much better for the environment reducing the carbon footprint of each one of the products they produce.
After much deliberation, I went for the Nova Ski Jacket and Pant combo.  When the items arrived, I was not disappointed, they looked even better in real life than they did online!  The jacket had all the features you would expect, snow skirt, hand gaiters, ski pass pocket, venting zippers, waterproof zips, fully taped seams along with some funky extras like goggle cleaner, tactile smartphone pocket and magnetic closure.  The pants again came with all the usual features, snow skirt, venting zippers, waterproof zips, fully taped seams and Pictures I-Fit system around the waist band.
So, what was the gear like up the mountain and in action!  Well it did the important things, kept me warm when the temperatures plummeted.  Then when the sun and blue skies were apparent I was nice n cool especially when the vents were opened.  I found the jacket and pants incredibly comfortable and it certainly kept me dry when I couldn't keep my feet and I found myself sprawling in the snow.  I really liked the tactile smartphone pocket, the phone was nice n dry in the waterproof sleeve and there was no need to remove it from the sleeve as it being tactile meant I could use the touch screen perfectly.  Plus, it meant the risk of me dropping my phone on the lift was reduced as it remained in the sleeve attached to the jacket.
Coming back to my requirement of wearing something that made me stand out, the look and colour scheme of the Nova collection certainly helped me do that.  I went with the BLACK/NEON YELLOW/FLYING BLUE combo and the matching jacket and pant combo certainly made me stand out.  It had the feel of something a mountain guide would wear so even before I strapped on my skis I felt like I looked the business!!  Not to mention the fact that by buying these organic products I was helping the environment!
See the Picture Organic Clothing website for a cool selection of gear: – http://www.picture-organic-clothing.com
Rating: 
Written by: @Alex
Tried & Tested: January, 2017