What do I pack for a Ski or Snowboard trip?
If you're about to head off on a Skiing or Snowboarding trip our checklist will help guide you…
Ski or Snowboard Boots (or remember to pre-book hire online to get the best rate)
Skis or Snowboard (or remember to pre-book hire online to get the best rate)
Ski Poles (or remember to pre-book hire online to get the best rate)
Comfortable Trainers/Shoes (the best feeling after a day on the slopes!)
Waterproof Winter Boots (for any extra fun in the snow such as sledging)
Ski Socks/Tubes (one pair per day)
Thermal Base Layers (thermals are perfect for winter sports, they provide warmth and draw moisture away from the body)
Salopettes/Ski Pants (being both windproof and waterproof, they usually also have a high back and shoulder straps)
Mid-Layers including T-Shirts and/or Sweatshirts/Fleece (it will be down to the weather as to how many layers and the type of clothing you will need to wear, if the sun's shining you won't want many layers!)
Waterproof and Insulated Ski/Snowboard Jacket
Gloves or Mittens
Neck Buff and/or Balaclava
Helmet (doesn't just keep you safe, but also warm!)
Goggles and Sunglasses (goggles are essential on snowy days, but sunglasses are sufficient on sunny skiing days)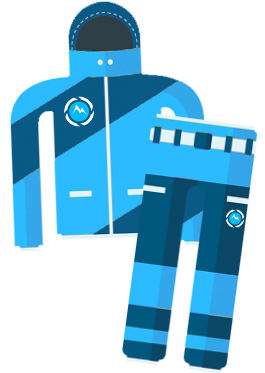 Lip Balm (this is to protect against wind burn and also the sun so make sure its high SPF, a couple of days without lip protection can be very painful)
Sun Cream (the sun reflects off the snow, if you don't pack this you return with a red nose, panda eyes and everyone asking you the same thing…"I thought you went skiing?")
Ski Pass
Energy/Snack Bars (winter sports are tiring, so a little boost mid-morning is a good idea)
Rucksack (a handy way to carry a bottle of water, snack bars, lip balm and belongings)
Hat (you'll probably want this on whenever your helmet isn't on)
Normal Gloves (for evenings)
Jeans and Jumpers (this is about as smart as it gets in a ski resort)
Ibruprofen, Paracetamol, Inflammatory Gel, Deep Heat
Ankle/Knee/Wrist Supports
Other holiday essentials…
Passport
Money
Tickets and Print-outs of ski hire, flights and accommodation documents
Travel Insurance (Make sure it covers winter sports and Gadget cover if you take things like GoPro's – print the documents so you have them to hand)
Phone and Charger
Pyjamas
Underwear
Toiletries (including toothbrush and paste, make up, shower gel and moisturiser)
Travel Plug Adapter
iPod, Charger and Headphones
Books and/or Magazine
Have we forgotten anything? Let us know if you can think of something to add to our list to help people just like you!